Myths About Bankruptcy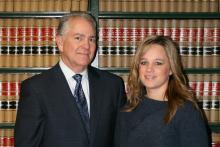 Grand Island Bankruptcy Lawyer
Neuhaus Law Office | Myths About Bankruptcy
There are several erroneous beliefs about bankruptcy that are often misconstrued as the truth. Fortunately, Nebraska bankruptcy lawyer Gregg Neuhaus, founder of Neuhaus Law Office, can help you distinguish fact from fiction when it comes to your debt relief options.

For more than 30 years, our skilled Grand Island bankruptcy attorney has been assisting clients in Grand Island and the surrounding areas with their complex legal issues. He continues to serve residents of central Nebraska with their bankruptcy needs.

Explanations to Common Beliefs About Bankruptcy
Below are common questions and beliefs about bankruptcy that our clients have asked about:

FICTION: Bankruptcy will negatively affect my credit forever.
FACT: Everyone's credit is individualized, meaning there are not a certain number of years that it will take to turn "bad" credit into "good" credit. Your credit is influenced by many factors, including your past financial history, the current economy and your future credit activity. In reality, by the time you are considering bankruptcy, chances are that your credit has been negatively affected by your inability to pay your bills, so filing for bankruptcy may be an ideal way to restore it.

FICTION: I will lose my home and my car if I file for bankruptcy.
FACT: As with credit, everyone's financial situation is different, meaning each individual will have their own personalized debt relief plan. Realistically, a majority of individuals who file Chapter 7 or Chapter 13 bankruptcy do not lose their homes to foreclosure nor have their cars repossessed. Varying factors like allowed exemptions for personal property, purchase and non-purchase money liens, and Nebraska's homestead exemption rule ultimately help those individuals filing for bankruptcy keep their houses and cars.

FICTION: Bankruptcy only happens to a certain type of person.
FACT: Unmanageable debt can happen to anyone. Most Americans owe money to some form of financial institution, whether it is a mortgage loan from your bank or a line of credit from a credit card company. Fortunately, when individuals become overwhelmed with their finances and are unable to make payments on their bills, there are debt relief options like bankruptcy. The important thing to understand is that you are not a bad person if you are considering filing for bankruptcy to eliminate your insurmountable debt.

At Neuhaus Law Office, we understand that individuals can accumulate an overwhelming sum of debt not only from purchasing items, but often due to unpredictable life circumstances. These include divorce, injuries and medical problems, employment downsizing and job loss, disability and other unforeseen events. We want to help you identify your options and get you a fresh financial start.

We invite you to contact us regarding your queries about Chapter 7 bankruptcy, Chapter 13 bankruptcy, and your other debt relief options. Schedule a free bankruptcy consultation with Gregg Neuhaus today.

Contact Neuhaus Law Office Today

Are you considering filing for bankruptcy in Nebraska and want to learn more? Call Neuhaus Law Office today at 308-385-0654, or contact us online. Our skilled bankruptcy lawyer represents clients in Grand Island, Nebraska, and the surrounding areas. Schedule a free initial consultation during our office hours: 9 a.m. to 5 p.m., Monday through Friday, and Monday evenings by appointment.