Chapter 7 Bankruptcy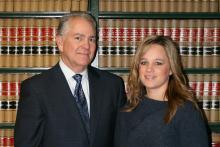 Grand Island Chapter 7 Bankruptcy Lawyer
Neuhaus Law Office | Chapter 7 Bankruptcy
Deciding to file bankruptcy will likely be one of the most significant financial decisions you will make in your life. It's natural to feel hesitant, but it should not prevent you from learning about your debt relief options.

While many individuals are eligible to file for Chapter 7 bankruptcy, some instead qualify for Chapter 13 bankruptcy. At Neuhaus Law Office, we strive to help you understand how each can positively affect your life, depending on your unique situation.

Are you deep in debt and considering filing for bankruptcy? Contact our office today to schedule a free initial consultation to learn how you can get a fresh start.

Your Grand Island, Nebraska, Chapter 7 Bankruptcy Attorney

With more than 30 years of experience practicing law, Gregg Neuhaus has assisted and continues to assist residents of Grand Island and central Nebraska with their difficult financial matters.

Our law office focuses on helping people eliminate and manage their debt while stopping creditor harassment. We understand the anxiety you are feeling about the possibility of losing your important assets because you can't pay your bills. That is why we are committed to offering you a personalized plan that will help you reach your financial goals.

How Chapter 7 Bankruptcy Will Help You

While Chapter 7 bankruptcy is also known as liquidation bankruptcy, filing for this type of bankruptcy does not mean that you will lose any of your valuable assets. Instead, it allows you to wipe out a majority of the debt you have, depending on whether it is dischargeable or not.

When you consult with our knowledgeable Grand Island credit card debt relief attorney, you can expect to learn about:
If you qualify for Chapter 7 bankruptcy by completing a worksheet. Gregg Neuhaus will examine it during your consultation and help you understand your options.
The means test and how it can help determine your eligibility
How Chapter 7 bankruptcy works - what you need to provide; how to file; the process, timeline and associated fees
Credit counseling and financial classes you may be required to participate in
How to get a free credit report to check your credit
What qualifies as exempt property and dischargeable debt in Nebraska and what you can expect to keep
The truth behind bankruptcy myths like avoiding foreclosures and issues related to your credit
We invite you to contact our law office today to schedule a consultation with our accomplished bankruptcy attorney. Together, you two will discuss your assets and debts to identify if Chapter 7 bankruptcy is right for you.

Preparing for your bankruptcy consultation:
When you arrive at Neuhaus Law Office for your bankruptcy consultation, be prepared to discuss your current debts and assets and if your creditors are threatening to garnish your wages and/or repossess your property. If your creditors have already started collection activity, you can bring the following to your initial consultation to expedite the bankruptcy process: six months of pay stubs, tax returns from four years previous to the current date, and documented complaints or judgments that have been filed and a legal description of your real estate.

Contact Neuhaus Law Office Today

Are you considering filing for Chapter 7 bankruptcy in Nebraska and want to learn more? Call Neuhaus Law Office today at 308-385-0654, or contact us online. Our skilled bankruptcy lawyer represents clients in Grand Island, Nebraska, and the surrounding areas. Schedule a free initial consultation during our office hours: 9 a.m. to 5 p.m., Monday through Friday, and Monday evenings by appointment.